New bridge makes key connection for Gresham-Fairview Trail.
(Photo: City of Gresham)
U.S. Congressman Earl Blumenauer will be on hand this Thursday when the City of Gresham officially opens the newest section of the Gresham-Fairview Trail.
Blumenauer will join a Gresham City Councilor and a Metro Councilor at SE Powell and SW 10th, where a newly finished, 177-foot bridge takes bicycling and walking traffic up and over Powell. The bridge is the first of its kind in Gresham and it creates a crucial connection for the Gresham Fairview Trail.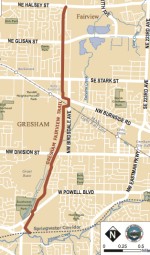 "Using this new extension the public can now walk, jog, and bike 3.29 miles from Halsey Street at 201st Avenue South to the Springwater Trail," reads a City of Gresham press release, "The completed bridge and trail section marks another milestone in Gresham's efforts complete bike lanes and trails that connect the city's businesses and neighborhoods together, and the city to the region."
Funding for this bridge comes from several sources, including $800,000 from a federal Transportation Enhancement grant awarded back in March 2007g.
The event will take place from 11 – 11:30 am this Thursday (5/19). More info on City of Gresham's website or you can watch the little video promo below…
If you have questions or feedback about this site or my work, feel free to contact me at @jonathan_maus on Twitter, via email at maus.jonathan@gmail.com, or phone/text at 503-706-8804. Also, if you read and appreciate this site, please become a supporter.