[NOTE: Please see this major update to this story.]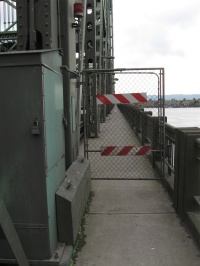 Gates closed for over 30 minutes
yesterday evening.
(Photo: Todd Boulanger)
Last night, the gates on the sidewalk of the Interstate Bridge over the Columbia River between Portland and Vancouver malfunctioned, staying closed for over 30 minutes. People on bicycles trying to commute across the river were forced to either turn back or, in some cases, they rode onto I-5 to get around the gates.
According to Todd Boulanger, a former City of Vancouver Transportation Planner, the malfunction occurred at around 6:00 pm. He contacted us last night to share the news and an email he wrote to ODOT and transportation staff from the cities of Portland and Vancouver.
Here's the email:
Dear ODOT Portland Region 1,

About 6Pm tonight the Interstate Bridge pedestrian / bike lift gates jammed shut in the 'lift' position for the trail (both sides) but not the roadway – as the road gates were open to car traffic. The gates were like this for over 30 minutes until the next bridge lift at 7PM. As commuter bicyclists turned around or jumped the gate (into the road) – there was little awareness or action (no warning signs or verbal direction over loudspeakers) by the ODOT bridge keepers. See photo.

Please send out a repair team to check on this dangerous malfunction.

Thank you,

Todd Boulanger
Vancouver, WA
Did anyone else experience this?
We'll update this story if we hear any official response.