Posted by Jonathan Maus (Publisher/Editor) on March 7th, 2011 at 2:38 pm
This year's kickoff event for Sunday Parkways will be in East Portland on May 22nd. Last year, one of the highlights of the East Portland route was supposed to be a freshly repaved Springwater Corridor Trail; but unfortunately, pavement crews weren't quite ready for the traffic and PBOT had to make a last-minute route change.
This year, not only will the Springwater Trail be prominently featured in the route, but PBOT has significantly expanded the East Portland loop — from a dinky 4.5 miles last year to a full 7 miles this time around.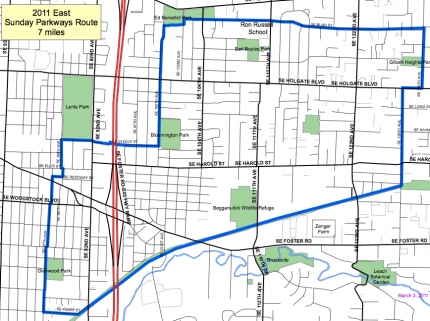 The route hops on the Springwater at about SE 92nd (just a bit east of the new food cart pod on the trail at 82nd) and goes all the way to SE 128th before heading north up to SE Bush Street. From there, the loop heads west through Ed Benedict Park and stops off at Bloomington Park and Lents Park before dropping back down to the Springwater via SE 87th.
Thousands of people walking and biking on a smooth Springwater Trail is definitely something to look forward to.
You can download the route map from PBOT's website.