Another day is down here in Austin. The crowds were everything many of us expected and then some. I stopped by many booths today and caught up with several builders. Browse the words and photos below, for just a sampling of what I saw…


.
Yipsan Bicycles
Renold Yip
Originally from Hong Kong, Renold Yip now operates out of Fort Collins, Colorado. His "Sunflower" bike won "Best City Bike" honors at NAHBS 2010 and this year he brought that bike's sequel. Highlights of the bike include a twin top tube and a "transformer" front rack that goes from flat porteur to lowrider pannier rack in mere seconds. The bike's owner, Tom Rinker, a bike shop employee from Maryland, told me that the bike will be used for, "Riding around bike paths with my 18-month old son on Sundays." Yes folks, Mr. Rinker will attach a Burley trailer to this stunning bicycle.
The "Transformer" rack
---
Sylvan Wood Composite Bicycles (Website)
Sylan co-founder John Fabel is a self-described "mad scientist" who is pushing the boundaries of wooden bicycles. Fabel has worked in product development in the bike industry for years (including helping develop the Xtracycle) and now he's turned his attention to "high performance products that are bio-sourced." Sylvan is an Amherst, Massachusetts-based company that is using locally harvested wood to make bicycle frames.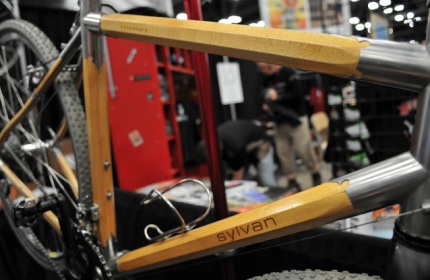 "Bikes are a great test bed for high performance, sustainable materials," says Fabel. A bike company at their core, Fabel says Sylvan is also actively looking to apply what they learn to other industries — like wooden wind turbine blades. In the meantime, they are making bikes Fabel says get rave reviews from all who ride them.
Co-founder John Fabel with the source material.
---
Shamrock Cycles
Shamrock's cyclocross bike definitely stood out among the NAHBS crowd. Builder Tim O'Donnell is a Category 1 (that means super fast) cyclocross racer who wanted to ride to local races. His solution was to make a high-performance race bike with pannier racks and fenders that can be easily removed. The result is a versatile bike with racks and panniers that can be removed in seconds thanks to thumb screws.
Just unscrew it and go.
---
Naked Bicycles
I met Sam Whittingham back in 2008 when NAHBS came to Portland. In the years since, he's firmly established himself as a builder who can push the boundaries. This year he showed off a raw steel bike that had everyone's cameras clicking. Of particular note on his latest creation is the leather work done by Portland-based Geoff Franklin of Walnut Studios.
---
Independent Fabrications
It's great to see transportation bikes from so many builders. Indy Fab had a gorgeous purple mixte on display…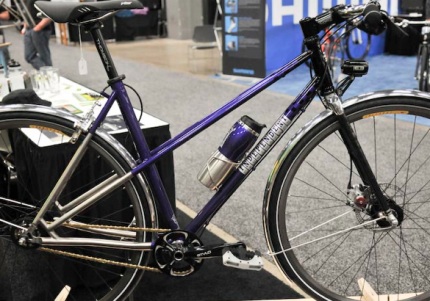 ---
Littleford Bicycles
Portland-based builder Jon Littleford makes practical and utilitarian bicycles. That might not get him the most eyeballs at a show like NAHBS, but his work deserves attention. The bike he brought to the show has several cool features: integrated front and rear racks, his signature, hand-painted frame; a front light that sits fully-protected by the front rack; a u-lock holder on the rear rack; and internal cable-routing to keep everything clean.
---
There's a lot more to see in the NAHBS photo gallery. You can also browse all our coverage from the show here.