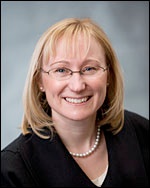 Lynn Peterson
Big news from Salem today: Governor John Kitzhaber has announced that Clackamas County Commissioner Lynn Peterson will be his new 'Sustainable Communities and Transportation Policy Advisor' (a new position). Peterson was previously rumored as a candidate for ODOT Director, but Kitzhaber recently ended that speculation when he announced just last week that Matt Garrett would remain in that position.
As we reported last month, Peterson was primed for a spot in Kitzhaber's office. She endorsed Kitzhaber in 2010 and she told us that if offered the ODOT job, she'd "be interested." While she won't lead ODOT, Peterson might have found a position that suits her even better.
In this file photo from 2005, Peterson stands with
former Metro Councilor Robert Liberty
and former Metro President David Bragdon.
(Photo © J. Maus)
Peterson's transportation credentials — and her commitment to transit, bicycling and walking — are well known. She has previously worked as a planner for TriMet and was also a transportation advocate for land-use non-profit 1000 Friends of Oregon. Back in December, Peterson put $150,000 in planning money in the Lake Oswego to Portland streetcar project toward determining the feasibility of a bikeway on Highway 43.
In a statement today, Governor Kitzhaber said, "Her knowledge, dedication and expertise will be integral to helping get Oregonians back to work building a sustainable 21st century transportation system."
Here's more from the Governor's press release:
Ms. Peterson will lead the Governor's policy efforts on transportation initiatives including, high speed rail, freight and highway planning and improvement, the Solar Highway, and linking transportation to housing and sustainability.
This appointment is sure to make active transportation advocates across the state very excited as she's a strong proponent of rail and in projects that reduce people's reliance on cars. It remains to be seen how Peterson will interact with ODOT's top brass and what exactly her level of influence will be at the decision-making table, but shes got the credentials and experience to have a major impact if given the opportunity.
Attendees of the upcoming Oregon Active Transportation Summit (March 29-30) will get a chance to meet Peterson. She'll moderate a panel featuring Andy Clarke (League of American Bicyclists), Tim Blumenthal (Bikes Belong) and Gail Achterman (Oregon Transportation Commission).
Peterson will resign from her position as Clackamas County Chair on March 11th and will begin working in the Governor's office on March 14th.