The gladiators and the crowd brought lots of intensity to Chariot Wars last night.
– More photos below /
Gallery
–
(Photos © J. Maus)

At the Ben Hurt Chariot Wars last night, a big and cuddly panda was one of a duo of gladiators that out-muscled the competition to take home the trophy. Dutch and Josh of Team Panda/North Freak were the last team standing in what can be described as nothing short of an epic battle that will be forever etched in the memory of all who witnessed it.
We paraded out to the battlefield.
Raptor!
Biggest crowd I've ever seen at Chariot Wars.
Chariot Wars had a different feel this year as Zoobomb organizers took things up a notch in the organization department. There were arm-bands for official photographers; a large and coordinated group of volunteers dubbed the "Goon Squad" whose mission was to keep people from getting to rowdy; organizers even did a safety check of all the weapons used by gladiators and there was even a betting pool before the battle started. Like a big-time sporting event, there was a film crew, complete with an anchorwomen who interviewed charioteers and asked the big winners, "You won! How do you feel?" ("Tired" was the answer.) And did I mention there were two fire dancers on stages surrounded the arena?!
Don't be fooled by her pretty face.
The action started in an industrial area in Southeast Portland; but as spectators erupted in cheers and the noise increased, Portland police soon showed up and politely threatened to take action unless crowds dispersed. With the battle far from over, organizers respected the police immediately and within minutes, everybody was gone — off to a new location where the battle could commence once again.
B-Rad had mercy on me and didn't swing.
Bear Force One was happy to get out of his hot panda suit.
Any guesses as to what the helmet design is?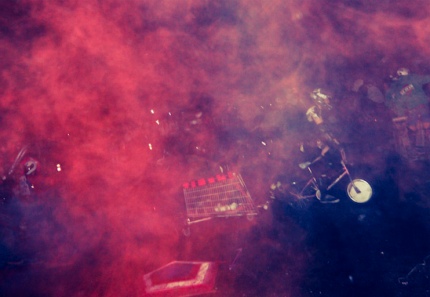 The final flurry of action reached a fever pitch as loaves of stale bread, beer cans, and a throbbing crowd chanted for their favorites. Using his acrobatic skills to level sideswipes on other gladiators without letting go of his chariot (letting go is one way to be disqualified), a man who goes by Dutch or "Bear Force One" emerged victorious.
Dutch hoists the Ben Hurt trophy.
There was blood, fire, exhaustion, deafening noise, and much more. But above all else, there were a lot of smiles and hugs. This is, after all, just bike fun. Long live Chariot Wars!
— Zoobomb's Mini Bike Winter continues through Sunday. See what's on tap for the rest of the weekend at Zoobomb.net.