Stop the CRC, a grassroots volunteer network of activists opposed to the Columbia River Crossing project, has released a new poster. Check it out…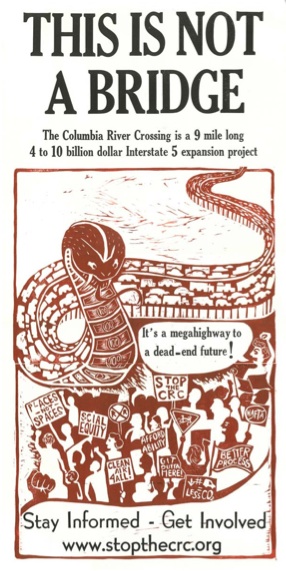 The poster is a handmade, two-color linocut and letterpress print on 175 lbs. fine art paper. It stands 25×13 inches and is available via suggested donation of $5 – $50. All proceeds from a limited first-run of these handmade posters will help fund a larger, professional print run.
According to Stop the CRC volunteer Adriane Ackerman, they'll use the posters to cover some basic costs of their efforts (which have included rides and other actions, a rally, poster making, petition gathering, tabling at community events, and so on), but the main idea behind them is to recruit volunteers and gain a broader public identity for CRC opposition.
"The posters will be used in a two-part campaign to gain more visibility and get more volunteers. We plan to take them to businesses and hang them in their windows. We'll also have another poster with a less abrasive image and wording for businesses that want to say, 'We support Stop the CRC' but don't necessarily want a giant corporate snake on their window."
Ackerman says with posters up in shop windows around town, they hope to "more formally solidify" the number of people and businesses that are against the project. She also foresees CRC momentum picking up in 2011 and hopes the posters help build up their member base in preparation.
The posters can be purchased at several business locations around Portland, including: The Star E Rose Cafe (2403 NE Alberta) and the Red and Black Cafe (400 SE 12th Ave). Stop the CRC has volunteers that will hand deliver the poster by bicycle to supporters anywhere in the Portland metro area.
Learn more at StoptheCRC.org.