The Portland Tribune and The Oregonian are both reporting that the Clackamas County Board of Commissioners voted unanimously today to approve a $5 vehicle registration fee that will go toward $22 million in funding to pay for reconstruction of the ailing Sellwood Bridge.
The Board heard loud opposition to the new fee at a hearing held last month when over 150 people showed up to protest. However, according to the Portland Tribune, a hearing held last night netted more support than opposition:
The commission had heard from a vocal contingent of opposition to the fee increase during a three-part public hearing, but counted a larger number in support of the fee, including correspondence and phone calls.
Gerik Kransky, advocacy director of the Bicycle Transportation Alliance, urged his members to email the Board of Commissioners. He also wrote an op-ed supporting the fee on BlueOregon.com. Today, Kransky had this to say:
"The Bicycle Transportation Alliance is happy to see that Clackamas County is committed to paying their fair share of the new Sellwood Bridge. As one of only two local connections across the Willlamette River for Clackamas County, the bridge is an important connection for all local residents – not just bicyclists – and we believe $5 per year is a small price for a safer, better bridge."
The total project is estimated at just over $300 million. The project itself has just moved into design phase. See the current cross-section below and stay tuned for more coverage of how bikes figure into the plans…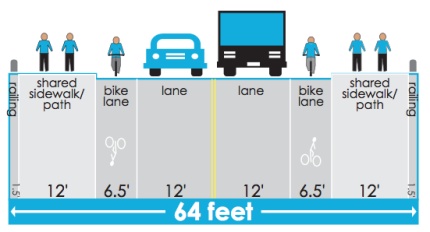 — Read our past coverage of The Sellwood Bridge Project.
If you have questions or feedback about this site or my work, feel free to contact me at @jonathan_maus on Twitter, via email at maus.jonathan@gmail.com, or phone/text at 503-706-8804. Also, if you read and appreciate this site, please become a supporter.