Posted by Jonathan Maus (Publisher/Editor) on November 30th, 2010 at 9:02 am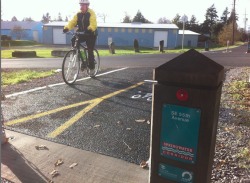 The Springwater Corridor Trail with
McClure Industries in the background.
(Photo: Howie Oakes)
A fiberglass product manufacturing facility that emits a hazardous air pollutant and is located adjacent to the Springwater Corridor Trail in Southeast Portland will be the subject of a public hearing on Wednesday. At issue is renewal of the Oregon Department of Environmental Quality (DEQ) air pollutant permit for McClure Industries, a company that some nearby residents think needs to do more to contain the level of odors emitted from their facility.

McClure Industries uses a resin in their manufacturing process that contains styrene, which is classified as a hazardous air pollutant and a volatile organic compound (VOC). Styrene has also been described as a "suspected carcinogen" by the US Environmental Protection Agency (EPA).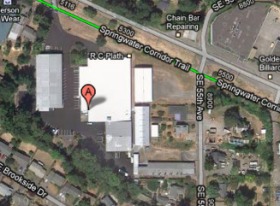 Howie Oakes, who lives near McClure Industries at SE 55th and Johnson Creek Blvd, says the styrene odor from the facility is "nauseating" (the US EPA lists "gastrointesinal effects" as a consequence of styrene exposure). Oakes wants to reach out to people who use the Springwater Corridor Trail, who he feels are "directly affected" by the emissions:
"I know I smell it every time I walk or ride the trail in this area. We are hoping that we can get members of the bicycling community to show up at the hearing and let DEQ know that they smell this during their commutes or other rides on the Springwater. I think that DEQ should consider the health and needs of trail users as well when deciding how a facility."
In a review of McClure Industries' existing permit, the DEQ found that between April 2008 and March 2010, 28 complaints had been filed against the facility. When DEQ staff conducted "unofficial odor surveys" in the area around the facility, they recorded two incidents from McClure Industries. At that time — given the level air pollutants and VOCs emitted — the DEQ decided that additional "controls on the facility" were not required.
Do you ride by this location? Have you smelled the emissions from McClure Industries? If so, consider attending the hearing on Wednesday to share your input with DEQ.
McClure Industries DEQ Hearing
Wednesday, December 1st at 6:00pm
Milwaukie Community Center (10666 SE 42nd Ave, Milwaukie)
— Learn more about the hearing and review background documents in this notice from the DEQ (PDF).
Jonathan Maus is BikePortland's editor, publisher and founder. Contact him at @jonathan_maus on Twitter, via email at maus.jonathan@gmail.com, or phone/text at 503-706-8804. Also, if you read and appreciate this site, Jonathan hopes you'll become a supporter.