Posted by David Haines (Contributor) on November 22nd, 2010 at 2:21 pm
It was a battle of wills out at Kruger's Crossing on Sunday.
(Photos by David Haines)

Racers braved a withering combination of cold, rain, and (almost) snow yesterday at the Kruger's Crossing Cyclocross Classic held on a farm on Sauvie Island.
Conditions ranged from snot-slick pavement to wheel-gripping peanut butter. A pumpkin-pile barrier and hay bale run-up gave the race a farm flavor; but for the riders, the only flavor they'll remember is dirt. The conditions were tough and attrition was the word of the day. In the last race of the day, just 12 riders finished out of three fields.
The weather may have dampened the spectator count, but a bonfire, Kiddie Kross, and the "Doggie Dash" race helped make the day fun. Big kudos to the folks from OBRA and Kruger's Farm, who worked long hours before and after the race. Below is a selection of my photos from the day…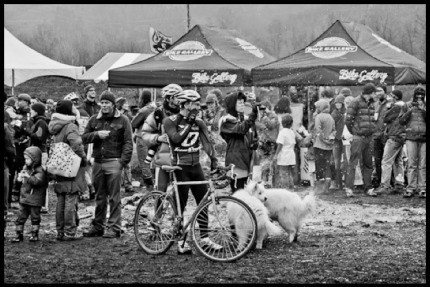 — David Haines is a photographer based in Portland. See more of his work at BikeRanger.com.