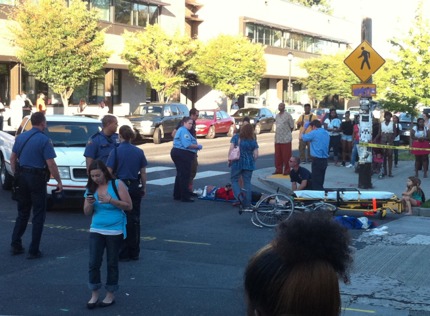 Photo of the scene at N. Killingsworth and Kerby last night.
(Photo: Nate Gibson)
According to the Portland Police Bureau, there was a collision between a father and son riding a tandem bike and a man driving a pickup truck at the intersection of North Kerby and Killingsworth earlier this evening.
The crash happened at about 5:00 pm. The PPB says the truck was being driven by a 29 year-old man who was turning southbound onto Kerby from Killingsworth. Here's how it went down as per the PPB press release:
"The driver of the truck did not see anyone in the rode [sic] way when he started his turn. He heard someone yell, then saw a tandem style bike with two riders. The riders were a man and his five year-old son who were both wearing their helmets.

The driver of the truck stopped and cooperated fully with the police investigation into this collision. The father and son bike riders were transported to an area hospital. There were no visible injuries other than a bump on the child's head. The child victim was entered into the Trauma system due to his age.

Alcohol was not a factor in this collision and witnesses state that the vehicle was not driving too fast. No citations have been issued."
Thanks to reader Nate Gibson for snapping a photo of the scene and sending it in.