Sunshine, bike racing, and big crowds came together on the North Park Blocks on Friday.
–
Gallery
/Slideshow below –
(Photos © J. Maus)
Portlanders enjoyed a rare treat on Friday — a professional bike race downtown. The Twilight Criterium filled the North Park Blocks with high-speed racing action just a few feet away from hundreds of spectators. In addition to the racing, people took in the work of several local bike builders and enjoyed beer and food from local vendors.
Before the racing action got started, local bike builders took center stage. I caught up with Renovo Hardwood Bicycles owner Ken Wheeler. His new mountain bike — made from hickory — drew a lot of attention. His business has grown considerably since I first met him back in February 2008. He's now got several employees and continues to expand and refine his line. Also displaying bikes were Cielo by Chris King, Signal Cycles, Winter Bicycles, and Tsunehiro Cycles.
As per usual at the Twilight, there were some hair-raising crashes. Check out this photo captured by local photog extraordinaire David "BikeRanger" Haines: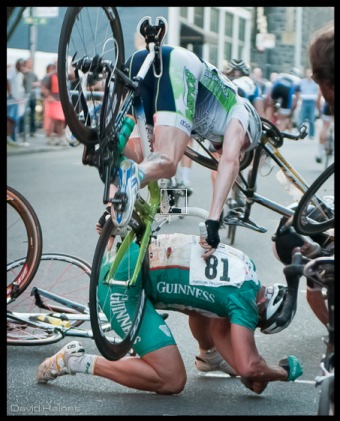 From the bustling beer garden to the huge crowds lining the course and all the excellent action, this race has become firmly ensconced as a Portland classic. See more photos in my gallery or in the slideshow below:
If you have questions or feedback about this site or my work, feel free to contact me at @jonathan_maus on Twitter, via email at maus.jonathan@gmail.com, or phone/text at 503-706-8804. Also, if you read and appreciate this site, please become a supporter.