"Calming soon" — get it? Detail of new postcard PBOT will be mailing out soon.
The City of Portland Bureau of Transportation is embarking on year two of a four-year strategy that will blanket the city with 60 miles of new bicycle boulevard streets. From Spokane Street in the deep southeast Portland, to neighborhoods in north and outer east Portland, bike boulevards are popping up everywhere. Recently re-named "neighborhood greenways" to reflect their non-bike and stormwater retention attributes, the streets are easily identified thanks to over 2,000 sharrows that are in the process of being placed on them.
"Portland is creating a citywide network of safe, traffic calmed streets where people on foot, on bike and at play are given priority…"
— From a postcard being mailed to Portland residents
PBOT has held numerous public meetings for each individual project, but they've yet to do a coordinated branding effort for their overall strategy. Explaining new signage (like the sharrows) and creating awareness of new bikeways is just as important as the infrastructure itself. On that note, PBOT is about to launch a marketing campaign for sharrows and the 'neighborhood greenways' concept.
In addition to explaining what the streets are all about, PBOT has to undo some horrible PR damage (does "sewer money for bike lanes" ring a bell?) that still exists after the communications debacle around Mayor Adams' $20 million PBOT/Bureau of Environmental Services 'Green Streets' funding plan.
In the coming weeks, PBOT will hold a series of ribbon-cutting events on recently completed bike boulevard projects. With community leaders — and hopefully TV cameras — by their side, the goal will be to explain the benefits of how these green, rainwater-catching streets improve the safety of our neighborhoods and save the City money on stormwater management.
I recently got a look at a postcard that PBOT will mail out to thousands of Portlanders in an attempt to educate them about sharrow markings and introduce the neighborhood greenway concept. The front of the postcard is above, and the back goes into more detail about the sharrow markings. Here's the back side: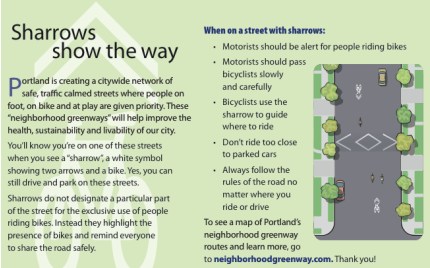 The text reads:
"Portland is creating a citywide network of safe, traffic calmed streets where people on foot, on bike and at play are given priority. These "neighborhood greenways" will help improve the health, sustainability and livability of our city.

You'll know you're on one of these streets when you see a "sharrow", a white symbol showing two arrows and a bike. Yes, you can still drive and park on these streets.

Sharrows do not designate a particular part of the street for the exclusive use of people riding bikes. Instead they highlight the presence of bikes and remind everyone to share the road safely."
You'll also notice that they're working on a new website, NeighborhoodGreenway.com, that will organize all the information from each project into one place.
Stay tuned for more details, dates, and information on ribbon-cutting events as well as updates on the BES/PBOT partnership and the many bike boulevard projects going on around town.