Posted by Marcus Griffith (Contributor) on June 22nd, 2010 at 10:45 am
Despite pressure from citizens, business owners (including the CEO of Burgerville), and advocacy groups from around the region and the country, last night the Vancouver City Council voted unanimously to pass their six-year Transportation Improvement Program plan with no dedicated funding for the Bike Program.
Instead of dedicated funds for bike infrastructure projects and encouragement programs, at a Council meeting last night, Mayor Tim Leavitt and Council members encouraged City staff to seek Federal grants and other funding sources. The decision came as a surprising disappointment for many.
"I am dismayed… to see a zero line item for bikes in the face of tens of millions …for widening lanes."
— Gerik Kransky, BTA advocacy campaign manager, in testimony prior to the TIP vote.
"I am dismayed… to see a zero line item for bikes in the face of tens of millions …for widening lanes," BTA advocacy campaign manager Gerik Kransky told Council before the TIP was approved, "I would ask that you start digging in the tens of millions you have and find something, anything, to fund the bike program."
In her testimony, Bike Me! Vancouver leader Leah Jackson appealed to the Council's long-term planning. "You need to look toward the future, and we know we won't have enough space to accommodate just vehicles," Jackson stated.
Kransky called the decision a "missed opportunity." Kransky led a campaign to rally support to keep the Bike Program in the TIP, but to no avail. The BTA was joined in their efforts advocacy group Bike Me! Vancouver and the League of American Bicyclists even weighed into the issue with a letter to Vancouver's Mayor urging him to find money to fund the program.
Prior to last night's Council meeting, the President and CEO of Northwest food chain Burgerville, Jeff Harvey lent his support to the cause with a letter the Mayor Leavitt and Council members that stated in part:
"I realize the budget is tight but funding bicycling and pedestrian programs represents a critical investment in developing our desired future. Please make the necessary cuts elsewhere, and support the bicycle and pedestrian programs at or above the 2009 levels."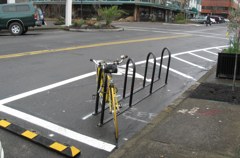 The Bike Program paid for bike parking
in downtown Vancouver, like the on-street
bike corral on Main St.
(Photo: Jennifer Campos/City of Vancouver)
The City defends its decision as financially necessarily in tough economic times. "Fiscal responsibility" and "need to prioritize" were phrases used by several council members throughout the Council's discussion.
It's important to note that the TIP plan is not a budget document. Rather, it's an outline of which capital projects the city will work on over a six-year period. With no dedicated revenue stream for their capital program, the City of Vancouver has traditionally relied on the general fund, bonds, and taxes to fund programs. Senior Transportation Planner Jennifer Campos recently explained that, "We have bonded all we can, so in 2010 our capital program essentially ends."
With no capital program, Campos says that the Bike Program will be gone after this year, along with the City's Sidewalk Program, ADA Curb Ramp Program, and their School Zone Safety Program.
City of Vancouver Transportation Planning Manager Matt Ransom, speaking after the meeting, said, "Our charge is to build the city system and the city system is not one dimensional." Additionally, Ransom sought to clarify that zero funding for the stand alone bike program did not mean zero commitment to bike improvements. "The majority of bike lanes are built though major street upgrades. That is not going away," Ransom stated.
For many Vancouver residents the frustrating aspect of the vote was how little money the Bike Program actually requires. The 2010-2015 TIP (approved last year) shows a line item funding of only fifty-thousand for the entire program.
"It's so little money [for the bike program] and even that was too much to get from the city," said long time Vancouver cyclist Mary Smith. "It's frustrating to go through all this work to show support for a vital program and turn up empty handed." Her feelings were echoed by Vancouver college student Jacob Ring, "It's embarrassing, were advocating for crumbs and were not even getting that."
— This story was filed by our Vancouver correspondent Marcus Griffith, with editing and additional details by Publisher Jonathan Maus.