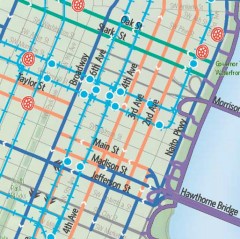 Detail of new edition of Metro's Bike There! map.
Metro has reason to be proud of their Bike There! map. In a word, it's awesome. It's one of those maps that gets me inspired to explore new places every time I unfold it. Given the extensive coverage and user-friendly details, it's no surprise they want to celebrate the launch of the latest version.
Around since 1982, this is the eighth edition of this popular map. Highlights include maps of 21 cities around the region, recreational routes, more detailed street ratings, labels for steepness, and full listings of existing rail lines to help you make that multi-modal trip (and/or steer clear of pesky tracks). Of course it's also printed on super-durable, waterproof paper.
To get folks excited about the new map, Metro has three events planned.
The first one is a behind-the-scenes look at the making of the map that happens at Metro headquarters at noon today.
Cover of new map.
Next week (5/13) is the big bash. From 4 to 6 pm, Metro will host a party with the main attraction being a Goldsprint competition between "local media celebrities." Yes, you read that right. This is your chance to watch your favorite local reporters spin their hearts out on a stationary trainer.
Signed up so far are Dave Salesky from KATU, Bruce Sussman from KOIN, Willamette Week's Mark Zusman, Mark Nelsen from KPTV, Joseph Rose from The Oregonian, Peter Korn from the Portland Tribune, Justin Carinci from the Daily Journal of Commerce and others. (Unfortunately I'll be out of town and will miss out on the fun.)
Weather reporters will go against print/web reporters and the overall champion will get to face Metro President David Bragdon in a final sprint showdown.
Rounding out their trio of Bike Month/Bike There events is a presentation titled, Why not bike there? on May 26th that will focus on the Community Cycling Center's Understanding Barriers to Bicycling project.
The Bike There! map costs $9. You can buy it at local shops or buy it online from Powell's Books and help support BikePortland.org with each purchase.