"There's a lot going on in Portland, but there are other cities having more astonishing success at this point."
— Loren Mooney, Editor-in-Chief Bicycling Magazine
Bicycling Magazine's annual list of America's top bicycle cities puts Portland in unfamiliar territory: second place. Since 1995, Portland has consistently been ranked as the #1 biking city, earning the title every year the rankings have been held since 1995 (1999, 2001, 2006 and 2008).
But this year, that honor goes to Minneapolis, Minnesota.
Here's how the top 10 rankings ended up (great to see Eugene in the 5th spot!):
Minneapolis, Minnesota
Portland, Oregon
Boulder, Colorado
Seattle, Washington
Eugene, Oregon
San Francisco, California
Madison, Wisconsin
New York City, New York
Tucson, Arizona
Chicago, Illinois
I usually don't make much out of the various rankings that come out, but Bicycling has been doing their's for longer than anyone else and Portland's #1 ranking has become a cornerstone of our reputation.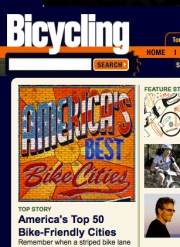 Top 10 Best Cities:

Does this mean the Portland bike magic is starting to wear off? Maybe. But this is more likely a sign that bike-friendliness is on the rise in cities across the country and Portland simply isn't as far out in front as it once was. I spoke with Bicycling's editor-in-chief Loren Mooney about the rankings this morning and she echoed that sentiment:

"I would say that in terms of our list, it's nothing that Portland has not done right, it's more that the striking thing that's happened in the last four years is tremendous improvement from other cities around the country."

In straight comparisons of what Mooney calls "boring but important" statistics, Portland would be #1, but Bicycling gave the title to Minneapolis for their intangibles. Mooney said "we're giving a lot of momentum credit here" and she acknowledged that the way Minneapolis's community has bonded around the "winter riding spirit" figured largely into their decision.

Mooney also shared this perspective on Portland:

"It's fair to say that, not to be negative to Portland, but there's also the notion that Portland may not be moving forward at as rapid a pace as some of these other cities at this point. There's a lot going on in Portland, but there are other cities having more astonishing success at this point."