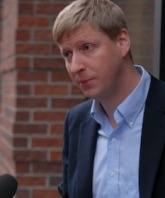 Mel Rader of Upstream Public
Health speaks at PSU today.
(Photo © J. Maus)
A quick note about a few events on the horizon that explore how transportation policy impacts the environment, public health and social equity.
Today at noon (sorry for late notice), Mel Rader of Portland-based health advocacy organization Upstream Public Health will speak at Portland State University as part of their ongoing Transportation Seminar Series. Rader's talk will examine the health benefits that come with reducing greenhouse gas emissions in our transportation system. Rader spearheaded a Health Impact Assessment on a climate change policy that studied how a reduction in driving led to significant changes in air pollution, physical activity and collision rates.

The presentation is on January 22nd (today) from noon to 1:00 in Room 204 of the Distance Learning Center Wing of the Urban Center on the Portland State University campus.
Nifty graphic from cover of research guide.
Next week (1/28 – 1/29), noted researcher Shireen Malekafzali will kick off a trio of events around the topics of transportation, health and equity. Organizers of the two day event write:
"We believe the Portland Metro region is ready for a healthy, equitable, world class transportation system in which success is measured by fairness, safety, and accessibility."
Ms. Malekafzali is the editor of The Transportation Prescription: Bold New Ideas for Healthy, Equitable Transportation Reform in America, a research guide that explores, "how healthy, equitable transportation policies can improve the quality of life for everyone, and in particular for vulnerable communities."
If you're still wondering what exactly is meant by "healthy, equitable transportation policy," here are its four principles (as published in the aforementioned research paper):
Develop transportation policies and plans that support health, equity, and environmental quality.
Prioritize transportation investments in distressed regions, low-income neighborhoods, and communities of color.
Emphasize accessibility, instead of simply mobility, in transportation policies and programs at all levels of government as well as across sectors and policy silos.
Ensure transparency, accountability, and meaningful participation by residents, advocates with diverse interests, and experts from different fields.
Here are details on the three events
The Transportation Prescription: A Dialogue with PolicyLink
Learning and Discussion on Opportunities to Advance Health Equity in Transportation Planning and Policy, including in the Federal Transportation Authorization.
Brown Bag Luncheon
Thursday, January 28th
11:30 AM -1:00 PM
OTREC (1930 SW 4th, Suite 300 — tentative)

21st Century Civil Rights: Transportation Health Equity Community Forum
An opportunity for diverse communities to come together to learn about how improving our transportation systems can improve our lives.
Thursday, January 28th
6:00-8:00 PM
Native American Center, Portland State University

Organizing for Health Equity in Transportation – Leadership Training (Invitation only through Sponsoring Organizations)
A special opportunity to become more deeply educated and engaged on issues of health and equity related to transportation policy. New community activists welcome. Participants must register through one of the co-sponsoring organizations
Friday, January 29th
9:00 AM – 3:00 PM
TBA Portland, OR

Co-Sponsors: OPAL (Organizing People Activating Leaders), Coalition for a Livable Future, Ride Connection, Oregon Tradeswomen Inc, Portland Transit Riders Union, Upstream Public Health, Portland State University Native American and Student Community Center. Organizations, academic and government institutions interested in co-sponsoring, please contact us.

(For more information please contact Rev Joseph Santos-Lyons via josephsantoslyons@gmail.com or (503) 512-0490.)
This is an interesting field of study that hasn't gotten as much attention as it should. Stay tuned for more coverage in the future.