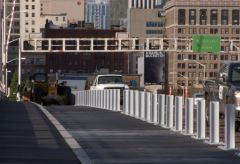 Not quite done.
(Photo: Adams Carroll)
It was supposed to already be open, but Multnomah County spokesperson Mike Pullen tells us that the long-awaited bikeway improvements on the Morrison Bridge won't be ready until late February.
The project was originally slated for completion in mid-December of last year, but Pullen says the County's contractor has submitted a revised schedule that pushes the opening date back to late February. Here's a statement from Pullen in reply to our request for an update on the timeline:
"If the contractor meets this new schedule, we believe the path will open in late February. We are frustrated that the contractor was not able to complete the project in December, as originally scheduled. As with many construction projects, there were some elements of this project that had to be redesigned during construction to meet the actual conditions on the bridge… While this added time to the construction schedule, it will result in a better facility than the original design."
advertisement
Pullen added that the County appreciates everyone's patience.
It's taken 12 years, so I suppose another few months isn't such a big deal. Here's to hoping everything goes as planned.
For full coverage of this project, browse our archives.