TerraCycle owner Pat Franz shows off his Cargo Monster rear end attached to a Catrike recumbent.
(Photos © J. Maus)
Southeast Portland-based recumbent parts and accessories manufacturer TerraCycle wants to bring the Xtracycle revolution to a whole new segment of the bicycle world — recumbent trikes, folders, and other non-standard bikes.
The company has just released their latest product, dubbed the "Cargo Monster". I stopped by the TerraCycle shop last week to give it a spin.
According to Pat Franz, who founded TerraCycle in 1996, the Cargo Monster is a "heavy-duty redesign of the Xtracycle Free Radical cargo concept". Franz and his crew have created an Xtracycle-compatible rear end that will allow the popular product to fit all sorts of new bikes.
"We know the market for weird bikes already, so we're not afraid of this."
— Pat Franz, owner of TerraCycle
Franz has built up an expertise in designing, building and selling specialty parts for recumbents, so this product is right up their alley. "We know the market for weird bikes already, so we're not afraid of this." Franz said they worked closely with Xtracycle (they're very open with sharing specs), to almost completely re-create the Free Radical. Everything on the Cargo Monster is made by TerraCycle except for the upper tubes, the deck, and the bags.
The Cargo Monster has much stiffer, thicker-walled tubing (to combat torsion flex), custom cut lugs, and it also features TerraCycle's new Xtracycle-specific idler kits to help combat chain-tensioning issues.
And, for those who want the ultimate hauler, the Cargo Monster has tabs already welded on for the EcoSpeed (another Portland company) electric-assist motor.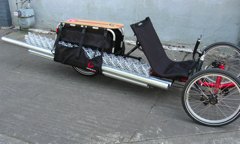 Seven-foot fence posts? No problem.
(Photo: Pat Franz)
One major benefit for trikes hauling cargo is stability. With three wheels, you can carry tons of weight without worrying about tipping over. Franz says he's test the Cargo Monster with all sorts of huge loads, including a recent trip to the hardware store to buy fencing and fence posts. Another advantage of the recumbent trike is carrying long loads. Without his legs and feet in the way, Franz said carrying seven-foot long fence posts was no problem at all.
Franz says dealers are already signing up to order the Cargo Monster and he sees a big demand on the horizon for bringing the Xtracycle to recumbent trikes, a part of the market he says has "really taken off" in the past few years.
The Cargo Monster retails for $1,049 (complete kit) or $770 if you already have an Xtracycle.
See more photos of the TerraCycle Cargo Monster in the gallery.