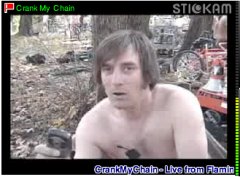 Dan Kaufman broadcasting live from Mt. Tabor.
–Live stream below the jump–
As many of you already know, the band Flaming Lips is in Portland today filming their upcoming music video. As we reported last week, the band came here to enlist the help of naked bike riders for part of the video.
Several of the band members showed up at a pre-shoot party at Radio Room last night and now they're in full production mode up at Mt. Tabor in Southeast Portland. Read more about today's shoot in this article published by Billboard.com.

Dan Kaufman of CrankMyChain TV is up on the hill doing a live broadcast. So far I've seen a few groups of riders, smoke, band member Wayne Coyne, and Dan strumming guitar in the buff (you've been warned).
I've copied the embed code of the broadcast below:
[UPDATED: Live feed is done. Feel free to share how it went for you in the comments.]
I've got the comments open and would love to hear from anyone else who was up there. Chime in below with your thoughts about the event.