Posted by Elly Blue (Columnist) on August 28th, 2009 at 4:10 pm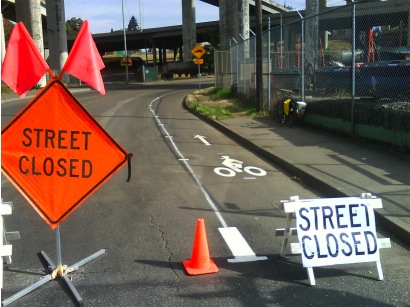 The new bike lane up the hill on Mississippi was installed this morning. (Photo courtesy of PBOT)
We've received word that the uphill bike lane on Mississippi Ave between N Graham and N Cook was installed this morning.
The lane runs northbound only, up the hill on a major bike commuting route between downtown and north Portland, is also a popular freight route. Plans for the lane were made, and preliminary markings installed, in the summer of 2008. Nearly a year later the lane had still not been striped, and we asked PBOT what had become of the project.
The project was delayed while PBOT bike planners and the maintenance arm of the bureau worked out a design that addressed safety concerns at intersections along the routes. The configuration installed today is what was agreed on to reduce conflicts between bikes and trucks.
Elly Blue has been writing about bicycling and carfree issues for BikePortland.org since 2006. Find her at http://takingthelane.com