Looking east on Prescott. Green
paint in foreground marks where
bike came to rest.
(Photo: Elly Blue)
This evening around 5:30 pm, a 36-year old man on a bicycle was fatally wounded when he attempted to cross NE Prescott Street at NE 57th (view map below).
According to investigators, Sandy Bass Jr. was headed north on NE 57th on his way to pick up his son at Rigler Elementary School. He was struck by a white Subaru that was headed west on Prescott.

advertisement
According to PPB Sergeant Voepel, the driver will not being cited.
The Police have also already determined that the person operating the motor vehicle had the right of way and that impairment was not a factor. Voepel told Blue that it appeared the man operating the bicycle "made an error". Police spokesperson Mary Wheat told The Oregonian that, "it appeared that the driver of the vehicle had the right of way."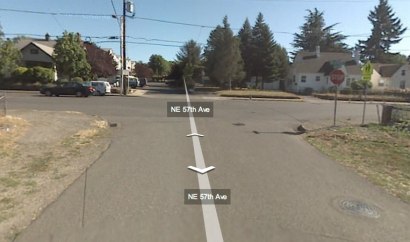 This is NE 57th approaching Prescott with the same approach as the man who was hit.
Blue reported seeing many bikes riding by in the vicinity. I have also already read several comments and gotten emails from people stating they commute through this area and that crossing Prescott can be tricky.
Prescott is a 35 mph in that location and the collision happened just half a block west of an Albertsons grocery store and just a few blocks east of Rigler Elementary School (view map below).
The deceased man's name has not been released. A photo of his bike published by KATU shows that he was riding a stock, mid-low range Specialized mountain bike.
As is the case with all fatal collisions, the Portland Police Traffic Division will carry out a full investigation.