[Welcome to the first article in our new Bike Home section. Marion Rice, our family biking columnist, will be sharing her finds and tips about all things related to bike-friendly living spaces. She'll be on the hunt for the best backyard bike sheds, bike-friendly homes for sale, bike yard art, and other fun stuff. If you have tips or suggestions for Marion, get in touch at marion[at]bikeportland[dot]org. — Jonathan]
---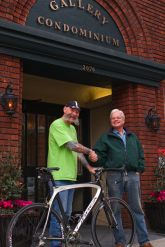 New resident Steve Gitchell and
developer Ted Watson.
(Photo: Dan Liu)
When Northwest Portland real estate developer Ted Watson embarked on a remodel of the Gallery Condominiums at NW 21st and Johnson, he knew bike amenities were a must.
"I know my market and I wanted to satisfy my market. I wanted to make it easy for my owners to get around," he said. According to Ted, it was a "no-brainer" to make sure the plans included bike storage and other bike-friendly features.
Watson himself lives in West Linn. He drives most of the way into the city, but he prefers to bike between his various downtown projects to avoid the hassle of finding parking.
advertisement
Follow the green lane to your
secure bike parking area.
(Photo: Marion Rice)
The increase in people using bikes as a way to get around is affecting more than just transportation policy, it's also having a growing impact on the way developers plan housing and what might be attractive to prospective, inner-city buyers.
Retiree Steve Gitchell just moved into the Gallery Condos last week. He says he'd like to race his "new toy" (a carbon fiber Orbea) at the Paris-Brest-Paris when it comes around in 2011. Gitchell has been riding bikes since 1972. He keeps most of his bikes in his flat, but is appreciative of the bike-centric focus of the Gallery.
For instance, as you approach the side of the building, you notice that Watson gave the west alley a "bike box" treatment. The same green color PBOT has laid down in intersections throughout the city leads residents to a locked gate that secures access to a bike storage room (which also locked). Before entering, you can't miss the neon bike sign. Walk inside and you see the bike storage area, complete with a pressurized air hose for your tires mounted on the wall.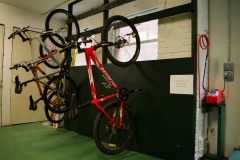 Secure parking and a high-pressure air hose is a nice touch.
(Photo: Dan Liu)
Watson even kept the bikey theme in the interior of the condos. He had several works of art commissioned just for the building, including this bike-themed piece…
Bike art, specially commissioned for the Gallery Condos, hangs on the walls.
(Photo: Dan Liu)
The Gallery Condominiums is a small building with studio and one bedroom units from that for for $165K-$300K. If you are in the market for a cool, bike-friendly condo in NW Portland, call Ted at (503) 913-2715.
— Stay tuned for more Bike Home features as well as our "Bike Home of the Week", which will be posted to the Bike Home section page.