Posted on April 30th, 2009 at 3:14 pm.
[Welcome to the first article in our new Bike Home section. Marion Rice, our family biking columnist, will be sharing her finds and tips about all things related to bike-friendly living spaces. She'll be on the hunt for the best backyard bike sheds, bike-friendly homes for sale, bike yard art, and other fun stuff. If you have tips or suggestions for Marion, get in touch at marion[at]bikeportland[dot]org. — Jonathan]
---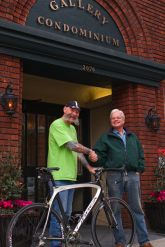 New resident Steve Gitchell and
developer Ted Watson.
(Photo: Dan Liu)
When Northwest Portland real estate developer Ted Watson embarked on a remodel of the Gallery Condominiums at NW 21st and Johnson, he knew bike amenities were a must.
"I know my market and I wanted to satisfy my market. I wanted to make it easy for my owners to get around," he said. According to Ted, it was a "no-brainer" to make sure the plans included bike storage and other bike-friendly features.
Watson himself lives in West Linn. He drives most of the way into the city, but he prefers to bike between his various downtown projects to avoid the hassle of finding parking.[Read more…]