A bike from Portland-based Vanilla
Bicycles graces the cover of
Custom Bicycles;
A passionate pursuit.
With the publication later this spring of, Custom Bicycles: A passionate pursuit, the handmade bicycle renaissance in America seems to have taken another big step forward. And, as you might have expected, Portland's reputation for bike building did not go unnoticed.
We received an advance copy of the book here at BikePortland headquarters earlier this week. With its 240 pages and 300 glossy color photos, the $60 book is definitely coffee-table ready. The book is published by Australia-based Images Publishing Group and features 5-8 page profiles of 39 builders (see photos below).
Readers will be introduced to the classic French city bikes of Cycles Alex Singer, the Italian masterworks of Dario Pegoretti, and they'll also get a healthy dose of our homegrown talent.
advertisement
Four of the featured builders are from Portland and four others are from throughout Oregon. Custom Bicycles has full photo spreads from Portland-based Ira Ryan Cycles, Signal Cycles, Vanilla Bicycles and Strawberry. Statewide, they've featured Wolfhound Cycles, Vendetta Cycles, Keith Anderson Cycles, and Jeff Jones Custom Bicycles.
When you consider this book is from an international publisher and that it features builders from all over the globe, I think it speaks to Oregon's and Portland's strengths as true epicenters of handmade bike building.
Here are a few photos of the book: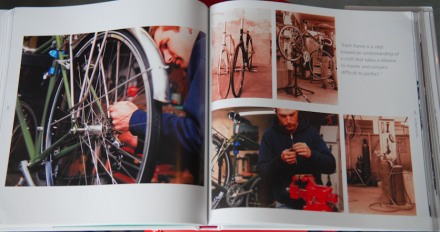 Photo spread of Ira Ryan.
This spread for Signal Cycles features a shot of the Hollywood Theater.
Custom Bicycles will be available in mid-May. You can pre-order it now from Powell's Books (and remember when you order from Powell's BikePortland earn a bit of cash).