Posted by Jonathan Maus (Publisher/Editor) on January 21st, 2009 at 12:02 pm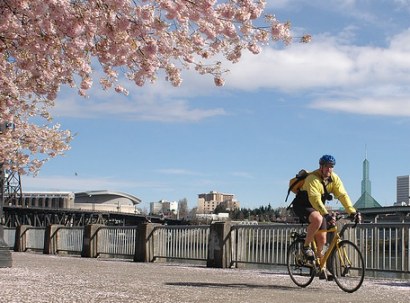 Air quality, access to parks, good public transit, and bike facilities were some of the reasons Portland got #1.
(Photo © J. Maus)
Yahoo and eco-guide/website Sustain Lane have ranked Portland #1 in their annual list of sustainable cities.
The Top 10
Not surprisingly, there were several transportation and bike-related bits that figured into their decision. I share some of those, along with a bit of fact-checking below.
From the introduction on the Yahoo website:
"…Portland offers plenty of parks and bike paths as well as stunning views of Mt. Hood. Cafes, restaurants, and markets are integrated into most neighborhoods, encouraging people to walk rather than drive."
They also mention that the Pearl District is an "urban model for cities across the nation". (The Pearl, by the way, is being eyed as a possible "bicycle district" by City planners due to its dense development and it's connected grid of narrow streets. More on that in a separate story.)
advertisement
In the "Getting Around" section they write:
Portland is a great place if you'd rather ride your bike. Some 10,000 Portlanders, or 2.8 percent, commute on bike, taking advantage of more than 700 miles of bicycle paths around the city.
It's interesting to see that 10,000 number. Usually folks refer to a percentage. I often get asked just how many commuters there are and my (highly unscientific) answer is around 50,000.
And "700 miles of bicycles paths"? I'm not sure how they came up with that one. Here's the breakdown of street lane bikeway miles according to Denver Igarta with the City of Portland Bureau of Transportation:
Bicycle lanes: 173.8 miles
Off-street paths: 73.5 miles
Bicycle boulevards: 29.5 miles
Signed connections: 28 miles
Even if they counted the 36 miles of bike lanes maintained by ODOT and the few miles of bridge bike lanes managed by Multnomah County, it still wouldn't add up to 700.
(Over on the Portland Water Bureau's "Water Blog" PIO Jennie Day-Burget points out that they got one other fact wrong — Portland's water comes from Bull Run Lake, not Mount Hood.)