Posted by Jonathan Maus (Publisher/Editor) on October 31st, 2008 at 12:59 pm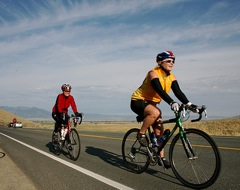 Wide open road and wide open
sky on Cycle Oregon 2008.
(Photo:
Matt Haughey
)
By all accounts, the recently concluded Cycle Oregon was one of the best ever.
From what I've heard, it had perfect weather, epic routes, majestic vistas (the Wallowa Mountains), welcoming towns, and great live music — all the ingredients that make Cycle Oregon one of the world's premiere supported rides.
I've had the good fortune to experience two Cycle Oregons. I rode and reported on the ride in 2006 and 2007. And, although fully-supported, red-carpet rides aren't usually my cup of tea, I became a believer.
But for various reasons, I decided to stay home this year; and I've been kicking myself ever since.
As soon as the ride was over I begin receiving emails from friends filled with links to photo albums I "just had to see!" and my phone started ringing with calls full of superlatives and exaltations like, "You missed one of the best ever."
Then, earlier this week, I read my Cycle Oregon Newsletter. Each year they do an evaluation survey at the end of the ride to see what folks thought of the experience. This year, the newsletter reported that 97% of riders (out of 1,100 survey respondents) said it was either "Outstanding" or "Very Good" and 99% say they plan to do it again.
Not bad numbers at all. Unless, like me, you weren't on the ride.
But on the bright side, a successful Cycle Oregon isn't just great for the 2,000-plus people on the ride, it means the organization behind the ride that does important advocacy work and doles out thousands in community grants each year, is thriving.