Posted by Jonathan Maus (Publisher/Editor) on October 22nd, 2008 at 12:04 pm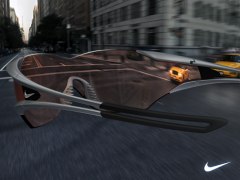 New Hindsight glasses from Nike.
(Photos: Nike via
Gizmodo
)
A reader (thanks Austin!) just gave me a heads up on an interesting new product idea from Nike.
Gadget blog Gizmodo reports that the new Hindsight glasses "are designed to do one simple thing: stop cyclists from getting hurt on the roads."
How do they do this?
"At the extended side of each lens is a carefully arranged high-power Fresnel lens that captures the view to the sides of the wearer's head, and sends it into the peripheral vision.

…its a clever way of augmenting your normal checking of the road, and avoiding being side-swiped by a fast-moving vehicle that was sitting outside your normal vision zones."
The glasses are not available to consumers yet, but it's an interesting idea. I'm not a believer or a fan of using "third eye" or rear-view mirrors while biking*, but I'd definitely give these a try.

*That's just my personal opinion. For some folks — especially those who are hearing-impaired or who aren't able to easily move their head around — rear-view mirrors are essential.