Posted by Jonathan Maus (Publisher/Editor) on October 9th, 2008 at 11:37 am
Bike Loan Program staff: Dave Villalobos,
Briana Orr, and Price Armstrong.
(Photos courtesy U O)
The University of Oregon has found something constructive to do with the many bikes that are abandoned and impounded on their Eugene campus each year — the bikes get refurbished and then loaned out to students through their new Bike Loan Program.
The program was made possible by an $18,000 grant made to the Erb Memorial Union's (the student union on campus) Outdoor Program and a $5,000 grant from PowerBar.
The bikes are available for any student for $65 deposit which is fully refunded at the end of the academic year. Along with the bike, the program provides a U-lock, helmet, front and rear lights, fenders, and a basket.
Dan Geiger is director of the Outdoor Program. He says a culminations of factor has led to enthusiastic support for the Bike Loan Program across campus.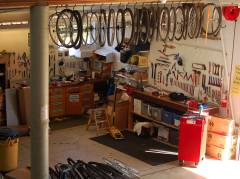 The bike maintenance shop.
In a press release, Geiger explained that "Campus has always had an issue with too many cars and too few spaces, but with the recent surge of gas prices along with increasing pressure for parking and decreasing parking areas due to new construction, the time for this kind of program is ripe."
Along with the bike, the program also offers safe biking education and maintenance classes. The Rental Facility at the Outdoor Program includes a bike maintenance shop that was recently remodeled in anticipation of the new bike program. Bike safety classes will be given in collaboration with the non-profit Great Eugene Area Riders (GEARs).
Program organizers say 30 bikes have been loaned out so far, and the waiting list is already over 60 students long.
The Bike Loan Program currently has funding for one year as a pilot program, but organizers are looking for sources of long-term funding. U of O hopes the program becomes a model for other schools and community across the state.
I wonder how many students at Portland State University or the University of Portland could use a program like this?
For more information, visit the Bike Loan Program website.