Oregon state legislator Jason Atkinson (R-Central Point) sent out an email update to friends and supporters last week. It was regarding a freak incident eight weeks ago that left his right leg/kneecap in shambles due to a gunshot wound.
He's undergone major surgery and the former bike racer (and supporter of several bike-friendly bills last legislative session) is just now looking down the road to recovery. Check out the photo and the email below: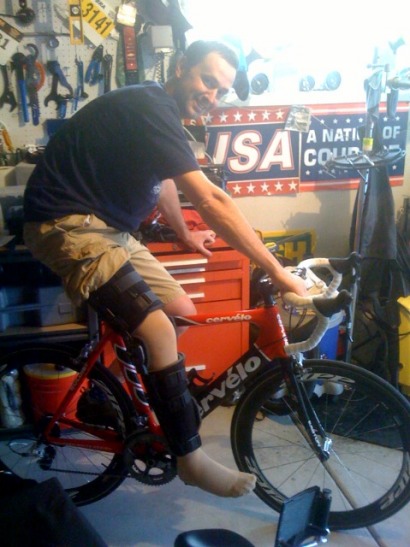 To All-

I've been helping a buddy prep for a race in the morning: The (Jean Chinn Memorial) Mt. Ashland Hill Climb from Lithia Park to Mt. Ashland, originally named after another friend who died tragically-Jean Chinn. For years Jean was one of the most competitive women cyclists in Oregon and Northern California.

Tonight I worked on his Cervelo in the same place my life changed 8 weeks ago. At the end, I just had to throw my leg over and make sure "it still felt right."

It does, it did, and it will-
Hopefully Jason will be out riding again by next spring. Either way, it's good to see him back on the bike!