Thief surveys his target.
See more photos below.
(Photos: PDOT)
Central Precinct officers are on the lookout for a suit-wearing thief that nabbed an unsecured bike from the racks in front of the City of Portland Office of Transportation's headquarters in downtown Portland (1120 SW 5th, across the street from City Hall).
The theft occurred around 2:00pm last Friday (8/22). Below is a message sent to PDOT staff from City of Portland Security Project Manager Gary Crane:
"Attached are some security snap shots [see more below] taken of a person who stole a bike from the loggia area of The Portland Building (1120 SW 5th Ave.). The thief is dressed in a suit. He was very quick as he snatched the unsecured bike and left east bound on Main. The theft has Portland Police case number 08-083270. If anyone knows who this person is or have seen him, I would appreciate hearing from you. Officer Mark Friedman of Central Precinct is the bureau contact person at 503-823-0097."
And here are the security snap shots: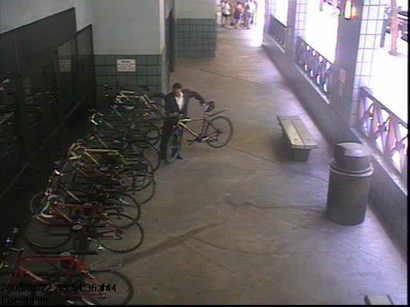 This isn't the first time PDOT has had issues with security at these bike racks. Last summer, a much more brazen thief went to work with a set of bolt cutters. He was also caught on film (no word on whether he was ever caught he was arrested and plead guilty).
Facilities staff have put up signs near the racks warning of theft.
I have used those racks many times, and I have to say they are a bit awkward to use. They are some sort of jaw-type system that requires you to pull your bike in, then line up the rack so that it clenches your frame. Lining it up can be a hassle and I'm guessing that the person in this most recent theft didn't mean to leave their bike unlocked — they might have just not used the rack properly.
I know some readers park in these racks everyday; what do you think can be done to make these racks more secure and perhaps easier to use?