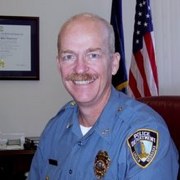 Lincoln, Nebraska's Police
Chief Tom Casady.
A reader (thanks Donna!) sent me a link the other day to a well-written blog post about sharing the road. Opinions on this topic are a dime a dozen, but something caught my eye about this particular article — it was written by the Police Chief of Lincoln, Nebraska (pop. 248,744).
On his Chief's Corner blog, Chief Tom Casady tackles the contentious issue of road rage, which is making headlines all over country (and world) as more and more cities come to grips with a changing transportation landscape.
Several things impressed me about Chief Casady's comments.
First, the fact that he writes so candidly and freely is a breath of fresh air. Given the stream of constant controversy that seems to plague the Portland Police Bureau, I doubt we'll be seeing Police Chief Rose Sizer communicating in such an unguarded way any time soon (which is too bad, because the value of this, from a community policing standpoint, is incalculable).
Here's how Casady opens his article:
"As the price of gas is causing all of us to flinch I am sure we will continue to see more people consider the two-wheeled option. It is almost certain that bike-car conflicts will increase… drivers and riders will increasingly share the road."
He then writes,
"Sharing the road is not just polite, it's the law… Some motorists view a slower-moving bicycle as an obstruction. Any avid cyclist has their stories of Beavis & Friend flipping them the universal peace sign, crowding them to the curb, making a right turn directly in front of their path, launching a Big Gulp grenade, and otherwise pestering them with obnoxious and dangerous behavior."
A former everyday bike rider himself, Chief Casady explains that there are often good reasons why people on bikes need a bit of breathing room (like "cracks, crevices, and potholes" in the road) and writes, "motorists just need to deal with that" imploring them to treat cyclists "with the same respect as any other vehicle."
While he goes on to write that "Aggressive driving seems to be a common condition for a growing number of motorists," he also points the finger at cyclists (although he writes, "cyclists aren't the problem").
"Some cyclists," he writes, "seem to think that traffic signals are optional."
He ends the piece with a good lesson for all of us: "When operating your 21 lb. road bike, do not get in an argument with a probable drunk who has poor impulse control and drives a 4,500 lb. weapon."
Not only was I surprised at the tone and content of Casady's blog post, but it comes in stark contrast to the silence we've heard so far from our city's leadership.
In the past several weeks, Portland's "bikes vs. cars" problem has been highlighted in the national media and the local anti-bike sentiment seems to be building (one woman has even started Bike Free Portland, a blog aimed at "Stopping the Bikenazi cold in their track").
Yet despite the downward spiral of civility brought on by this "us vs. them" mentality that has real public safety implications in our community, we're yet to hear any major statements from our local leaders.
I'm not saying I completely agree with Casady's comments, but at least he's publicly addressing the issue in an honest way and trying to set a civil tone for his city — and in doing so, he's showing this "Platinum" city at thing or two about leadership.
Read Casady's article here.