Posted by Jonathan Maus (Publisher/Editor) on June 27th, 2008 at 12:27 am
(Photo © J. Maus)
Track racers have been battling it out in Porltand's southwest hills at the Alpenrose Velodrome Six Day Challenge this week.
The event is the official FIAC National Six Day Championships and the final day of competition is this Saturday.
The racers are dueling in a variety of events for their share at $5,000 in cash and prizes. Also at stake are bragging rights for what is thought to be one of the world's first-ever women's-only fields at a six day event.
OBRA's Candi Murray says the Alpenrose Six Day has been running for 15 years and women started joining in only three years ago.
"At that time, they were in mixed teams, but we thought we could field a women's only event this year, so we got FIAC to award a women's only National Championship."
Racers responded. Seven teams of women are competing — the same size as the men's field. Murray says the women riders vary in age from 15 to 57.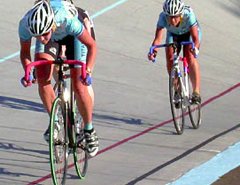 (Photo: OBRA)
Six Day racing involves a type of racing known as the "madison", in which teams of two catapult each other around the track by joining hands and slinging their teammate forward. It's intense and aggressive, says Six Day competitor Anita Dilles.
Dilles, and her partner Emily Charbonneau, have been competing all week. She says, "Having a women's only field is a big deal, because madisons are typically a pretty intimidating race — even for men."
A women's only field isn't just a big deal, it's also very rare. Murray says a bit of research on Google turned up only two other women's only fields at a six day event, "one in the 1890s and one in 1909."
Dilles — who races for the Gentle Lovers team — says she'd love to see more ladies on the track, "The women's track scene right now is fairly small, but it's growing… it would be great to see more women racing track."
This Sunday, Bike Central team rider Meg Mautner will host a Women's Track Clinic at Alpenrose for anyone who's interested in giving it a try.
If you'd like to see some of the action, head out to Alpenrose on Saturday:
2008 Alpenrose Six Day
FIAC Six Day National Championship
Alpenrose Velodrome (6149 SW Shattuck)
Racing starts at 6:00pm on Friday and 2:30 pm on Saturday