Posted by Jonathan Maus (Publisher/Editor) on June 20th, 2008 at 1:31 pm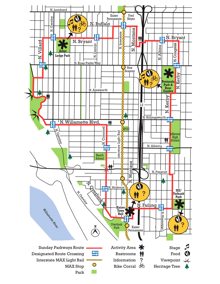 Sunday Parkways — the City of Portland's first-ever, large-scale carfree event — is all set for this Sunday (6/22) from 8:00 am to 2:00 pm.
PDOT's Transportation Options division first unveiled their plans for the event nearly one year ago. Since then, they've executed a comprehensive and strategic plan to make sure the event is a success. They've met with hundreds of neighborhood groups, they've had meetings with leaders of churches along the route, and they've lined up a myriad of performers, live music, food, and other activities to keep things interesting.

Now all that's left to do is make sure everyone shows up and hope it goes well enough so that we can make it a regular occurrence.
In speaking with Gil Penalosa in recent days (the Godfather of "ciclovias", which inspired Portland's event), he warned against planning the event for just one day:
"Portland should be doing it all summer… I think the most dangerous thing of a carfree Sunday is to do only one. I always recommend doing three or four.

On the first Sunday, you always have problems and complaints from people that couldn't get through. The second Sunday people figure out how to get around it, they're used to. By the third Sunday, everybody thinks it's fantastic, they love it, and they want more. Sometimes when you stop after three or four, everybody wants more… sometimes when you stop after only one, some people want less, so I think that's a risk and I wish Portland was doing more."
At the recently concluded Carfree Conference, we learned that similar events are springing up all over the country (and the world). Major cities like San Francisco, New York City, and Chicago have all recently announced plans for large-scale carfree events. Each of those cities has planned at least two separate days of closures.
Whether or not Portland made the right decision in having it for one day only, Penalosa — who plans to attend Sunday's event — says there's a lot riding on the success of Sunday Parkways:
"I think all of North America will benefit from Portland's success, so all of us are pulling for Portland's success with this event… It would raise the bar everyone."
To see the inspiration for Sunday Parkways, check out this Streetfilm of Bogota's Ciclovia: