The ghost bike for Austin Miller.
(Photos: Jim "K'Tesh" Parsons)
The Oregonian is reporting that Austin Miller's mother, Stephanie Miller, has filed a $2 million lawsuit against TriMet in the death of her 15 year-old son.
According to the Oregonian, the lawsuit claims that the TriMet driver was, "negligent in failing to keep a proper lookout for bicycle traffic."
On February 11, Miller was riding his bike home from school and had just re-entered the roadway of SW Farmington Road (after riding on the sidewalk of SW Murray Blvd.) when he collided with a TriMet bus and was killed.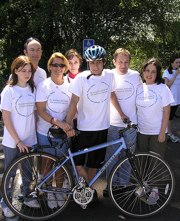 Austin Miller's family, with the
bike he was last riding, before
a memorial ride last week.
In April, a Beaverton police investigation absolved the bus driver and said the collision was "unavoidable." That report also found that Miller entered the roadway against a pedestrian traffic signal.
Last Saturday (6/14) about 35 people (including Miller's family and classmates) attended a memorial ride in Beaverton. Performance bike shop presented Austin's mom with a new bike for the ride and Austin's brother Tyler rode the same bike Austin was riding on that fateful evening back in February.
A report and photos from that ride have been posted in the Portland Bike Forums.
For more on the lawsuit, read the Oregonian's blog.
Read more about the Austin Miller tragedy in the archives.