Chris King Precision Components is a company that has built its reputation on going above and beyond.
From the first headset he made back in 1976, Chris King has proven that he sets his own standards and then keeps pushing them higher. But what many people don't know about this privately held company is that King's high standards go far beyond his products.
Their holistic approach to sustainability touches every aspect of their business — from their products to their people.
Take for instance the company's approach to encouraging bike commuting. Chris King Precision Components has what might be the most comprehensive and aggressive encouragement program in the country.
Here's a breakdown of what the company provides to its employees:
Secure, indoor parking for every employee as well as a dedicated entry way for bikes.
Contemporary locker room facilities for men and women with private shower stalls and changing areas.
Full size lockers for every employee. (These lockers were salvaged from an older building and reconfigured with a custom designed ventilation system. Air is constantly circulated and drawn from the lockers to keep clothes and towels dry and smelling fresh.)
Loaner bicycles, locks and lights available for checkout by any employee.
Route mapping advice and instruction from our commuting coordinator.
One-on-one meetings with all new hires to discuss transportation options and commuting strategies.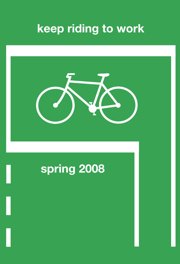 This is the latest design of a special-edition
t-shirt given to each employee who rides
to work at least eight times in
May or September.
All the above are offered year-round, but during two months out of the year, the company takes it up a notch.
During the BTA's Bike Commute Challenge in September (which they've won the past two years) and during a similar, inter-industry challenge that coincides with National Bike Month in May, Chris King Precision Components offers even more incentives to leave the car at home — including paid time off.
Chris King employees that ride to work 100% of the time during (May or September) get two full days off. Those who ride to work 75% of the time get one-and-a-half days off, and even if an employee can only manage 50% of their trips by bike, they'll get one day off.
That means riders commuting both months at 100% will receive four days of paid time off in addition to their allotted vacation time.
Chris King's marketing manager Chris Distefano admits that "the financial impact of this program is significant," and that each challenge month results in thousands of dollars paid by Chris King to his employees.
If you think Chris King isn't a savvy business man for offering these perks — think again. "His return?", Distefano says, "Happy, healthy employees."
This past May alone, 81 vacation days were earned as part of the special bike commuter challenge. But employees didn't just help themselves, their choice to ride instead of drive resulted in (based on 11,468 miles ridden):
$2,322.27 not spent on gasoline purchases
1,627 car trips saved
Approximately 11,648 pounds of CO2 not produced
501,315 calories burned
Those are impressive numbers and I hope this level of encouragement can be an inspiration to other companies.
Does your company offer special bike to work perks?
If you have questions or feedback about this site or my work, feel free to contact me at @jonathan_maus on Twitter, via email at maus.jonathan@gmail.com, or phone/text at 503-706-8804. Also, if you read and appreciate this site, please become a supporter.