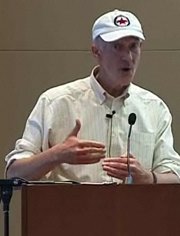 The animated and always
inspiring John Pucher.
(Photo: Still from video)
Remember John Pucher? He's the Rutgers University scholar who shared his thoughts back in November about how to make cycling "irresistible".
Now, the bubbly, bike-loving academic who signs his emails as "Carfree John" and who was dubbed "The Bicycle Scholar" by Momentum Magazine, is at it again.
He recently gave a presentation at Simon Fraser University in Vancouver (watch it below) that lays out an inspiring road map to increasing bike mode share in cities.
His basic premise? Make cycling safe and comfortable for everyone — not just the strong and hearty, lycra-clad set.
Pucher uses examples from the Netherlands, Denmark, Germany, and even a few cameos by Portland (like our bike-only signal) to make his case.
With our recent discussion of separation vs. integration of bike traffic and with our local and national momentum toward embracing bicycling as a viable means of transportation, I highly recommend this video…

— Link to the video presentation on the Simon Fraser website.