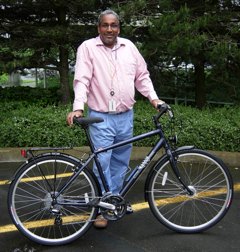 Michael Khadabux and his new bike.
(Photo courtesy Michael Khadabux)
May 23rd was a bad day for Portlanders who buy a lot of gas, but for Michael Khadabux, it was he'll always remember with a smile.
That's because he was the lucky winner in a contest to guess which day gas would hit $4.00 a gallon at a Shell station across from River City Bicycles on SE Martin Luther King Jr. Blvd.
Khadabux's petrol prognostication skills earned him a brand new Specialized Globe city bike. He told me today that he plans to use it "for short trips to the store or library etc. I've got a pretty long commute [Clackamas to Lloyd Center] so I'll do that on my faster road bike."
River City sponsored the contest and co-owner Dave Guettler said they received over 400 entries. Khadabux was one of 22 people to guess May 23rd (the Friday before Memorial Day) and he won the contest after his name was pulled out of a hat.
Congratulations Michael!