Posted by Jonathan Maus (Publisher/Editor) on March 17th, 2008 at 2:38 pm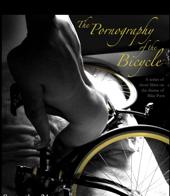 The Pornography of the Bicycle;
now available nationwide.
You've probably already heard of Portland's Naked Bike Ride — an annual tradition that has grown in recent years to become one of the largest such rides in the world. But in addition to that (and several other, smaller naked rides that have cropped up recently), there's another part of Portland's sans-clothing cycling culture you might not be aware of yet — bike porn.
Yes, whether you approve or not, bicycle pornography has its fans. The man on top of the genre — the charismatic and quirky Phil 'Reverend Phil" Sano — has embarked on another tour that will expose his distinct brand of bike love to audiences up and down the East Coast and across the country's midsection.
Revphil and his helmet-cam.
Sano, or "Revphil" as he's known to most, will show his Pornography of the Bicycle: A series of short films on the theme of Bike Porn at ten locations nationwide. He's already made stops in Chicago and has plans to share his cycling skin flicks in cities like Columbus, Pittsburgh, New York City, Philadelphia, Washington D.C., and even in Salt Lake City, Utah (that should be interesting).
In addition to the film screenings, Revphil and his cohorts have ambassadorial intentions and will connect with several bike gangs on the trip. They've got plans to hang out with Rat Patrol in Chicago, then it's off to Richmond, Virginia where they'll take part in Cycle Slaughterama. That event is a bike gang reunion of sorts and a large contingent of Portlanders plan to show up and hang out with the likes of the Cutthroats, Black Label, and other infamous bike gangs.
You can check the latest updates from the road on the Bike Porn Tour blog.