Filmmakers and photographers are scrambling to submit their work for consideration in two upcoming shows: the sixth annual Filmed by Bike film festival and the first-ever Cycle Seen photo and two-dimensional art exhibition. Both shows have a March 1st submission deadline.
Filmed by Bike is an eagerly anticipated showcase of short bikey films that has grown by leaps and bounds since its humble beginnings back in 2003. Show organizer and founder Ayleen Crotty says "Submissions are going very well so far," and that, "a lot of them come in at the last minute, which is a bit nerve-wracking."
Crotty says the quality of the submissions — half of which come from outside of Oregon — has been so good that "even at this point, we'd have a full festival." This year, Crotty will debut the "Go Independent" contest that will give a $100 prize (sponsored by Bike Gallery) to the movie with the best soundtrack by an independent band.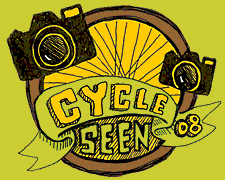 Cycle Seen is the vision of artist and photographer Rachel Siegel. The exhibition will be held at multiple locations beginning in June and will focus on both photography and other forms of two-dimensional art. Siegel plans to organize a bike ride between the locations to be held during Pedalpalooza.
Siegel says submissions are pouring in and so far, the Cycle Seen Flickr photo pool has 127 members and over 200 images.
If you'd like to submit work to either of these events, you've still got a few days left before the March 1st deadline!
Filmed by Bike is scheduled for April 11-13 at the Clinton Street Theater in Southeast Portland. Check out the fun video trailer of the event and find out more at FilmedByBike.org.
Learn more about Cycle Seen at CycleSeen.org.