Posted by Jonathan Maus (Publisher/Editor) on February 23rd, 2008 at 8:23 am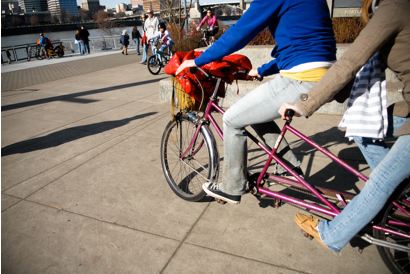 The Esplanade will be busy today. If you go that way,
remember to take it slow, ring your bell, and smile.
(Photos © J. Maus)
The sun is out and it looks to be a beautiful Saturday.
Eleni (my 5 year-old) has so
much attitude these days.
Are you riding this weekend? If so, let us know what you're up to in the comments below. If you need inspiration, check out what your fellow readers did last weekend.
As for myself, the girls and I are headed out for a bike adventure of our own.
We'll be riding from North Portland down to the Eastbank Esplanade, then out to Oaks Bottom Wildlife Refuge for lunch. I figure we'll play on the trails by the river and then maybe ride on to Johnson Creek before heading home. Watch for our family train (one XtraCycle with a child seat and another bike with a tag-along bike) and say hi!
Whatever you do, enjoy the weekend.