Posted by Jonathan Maus (Publisher/Editor) on January 30th, 2008 at 1:29 pm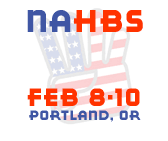 The upcoming North American Handmade Bicycle Show (NAHBS) will offer more than just a chance to ogle at gorgeous handmade bikes and the latest fashion and accessories to go with them: A full slate of informative seminars are also planned over the three-day show.
Most of the seminars are geared toward framebuilders and delve into topics like the business of building and the science behind frame materials, but at least two seminars are planned for the general riding public and include some familiar faces to Portlanders.
Local author and randonneuring enthusiast David Rowe will host a panel discussion titled, Getting Ready to Ride Centuries and Beyond, and Momentum Magazine editor Amy Walker will host a discussion on city bikes and the people that ride them.
Rowe, the man behind Ready to Ride, says his panel will feature, "a stellar line-up of experienced, long-distance cyclists that will offer insights on how to tackle challenging rides."
Among his panelists are some familiar names: George Thomas, co-director of the Race Across Oregon; Jonathan Nicholas, Editorial Board member of The Oregonian and a founder of Cycle Oregon; and former Portlander and Race Across America (RAAM) competitor Michelle Grainger.
Immediately following Rowe's seminar will be a panel discussion on city bikes hosted by Amy Walker. Walker is the editor of Vancouver BC-based bike news and culture magazine Momentum, whose current issue happens to be devoted to the "North American City Bike Revolution."
Walker hopes her discussion will "get people thinking about the customers for the bike industry's hottest new category, city bikes". With the help of her panelists, which so far include bike industry analyst Jay Townley, framebuilder Mike Flanigan of Alternative Needs Transportation (ANT), and bike journalist Jonathan Maus (hey that's me!), Walker wants to delve into the people, the advocacy, the bikes, and the future of bikes as transportation in North America.
Both of these seminars are free with purchase of regular admission to the show ($15 pre-order, $18 at the door). See the NAHBS website for more information.
Jonathan Maus is BikePortland's editor, publisher and founder. Contact him at @jonathan_maus on Twitter, via email at maus.jonathan@gmail.com, or phone/text at 503-706-8804. Also, if you read and appreciate this site, please become a supporter.