Portland City Council hears from a packed house.
(Photos © Jonathan Maus)
City Council chambers is packed tonight for the first official hearing of the Safe, Sound, and Green Streets transportation funding proposal. I'm sitting up in the balcony because the lower level is completely full.
At stake is a historic plan that will look to raise over $460 million of transportation funds by establishing new fees on Portland residents and businesses (households will pay $4.54 a month and 85% of all businesses will pay an average of $33 per month).
Well over 30 people have signed up to speak and we're just now getting into that public testimony after Commissioner of Transportation Sam Adams presented the proposal and welcomed his "invited panel" of speakers.
Police Chief Rosie Sizer
(R) and Susie Kubota (L).
Those speakers included PDOT Director Sue Kiel, city accountant John Rist, PDOT traffic safety guru Mark Lear, Portland Audubon director Bob Salinger, BTA director Scott Bricker, Bike Gallery owner Jay Graves, Portland Business Alliance head Sandra McDonough, Police Chief Rosie Sizer, Legacy Emanuel trauma nurse Mike Morrison, Tracey Sparling's aunt Susie Kubota (she delivered another emotional speech — I'll paste it below in a few minutes), and several others.
Many neighborhood, business, and transportation activists are here to testify on the proposal. Most will lend their full support but there are others in the room who plan to testify against the proposal.
"We have an opportunity now to make a change…no more families should pay the ultimate price of the senseless loss of their loved ones due to unsafe streets."
–Susie Kubota
Among them will be noted alcohol and petroleum industry lobbyist Paul Romain (I saw his name on the sign-in sheet), who is here representing the Oregon Petroleum Association and a coalition of convenience stores, gasoline dealers, and others who hope to stop this proposal. It was confirmed yesterday that Romain's group, led by his daughter Danelle, will attempt to refer the proposal to Portland voters.
They're likely to argue that the proposal is an unfair hardship to their business-owning clients. To refer the proposal, they'll have to gather 18,000 signatures in the 30 days after it is passed by City Council next Wednesday. I plan to cover more about their efforts in the days and weeks to come.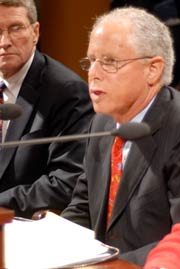 Oregon Petroleum Association
lobbyist Paul Romain spoke
against the proposal.
For more on why the Romains (and several other corporate lobbyists) have a beef with this proposal, check out the Willamette Week story that hit the streets today.
As a side note, Danelle Romain's godmother is married to Len Bergstein, campaign manager for Sho Dozono, who is running against Sam Adams in the mayoral race.
UPDATE: Mr. Romain and Leonard had an interesting exchange after Romain's testimony. I still have to go through the audio but I should have something up by late tomorrow (1/10) morning.
The most memorable quote of the hearing so far is from noted anti-bike blog commenter Terry Parker (see his daily rantings on Adams' blog). He is adamantly opposed to the proposal and said, "The city should not be a sugar daddy for cyclists."
For ongoing coverage of this hearing, check out Amy Ruiz's detailed report over on the Portland Mercury blog.
Also check Jim Mayer's story about the hearing in today's Oregonian, New fee would repave Portland.
---
Here is the full text of Susie Kubota's moving testimony (which, in a surreal twist, she delivered while sitting right next to Police Chief Rosie Sizer):
I am Dr. Susan Kubota. I am here to speak to you today on behalf of my niece, Tracey Sparling, my sister's only daughter.

Tracey was killed last October while riding her bike from her apartment to class at Pacific Northwest College of Art. She was legally in the bike lane on 14th and Burnside, stopped at the light. When the light turned green, a cement truck to her left turned right, crushing her beneath its wheels.

Tracey was just 19 years old. She was starting her second year in college. She transferred from Syracuse University in New York State to the Pacific Northwest College of Art to concentrate on her career goal of communication design, and to be closer to us, her family. She was a full time student and held part-time jobs at PDX Design and St Cupcake. She was an intelligent, creative, industrious, gifted, beautiful, kind and compassionate young lady and she was ripped from our family and the world just because she opted to ride her bike to class rather than drive her car.

She was not a dedicated or recreational cyclist; she used her bicycle to get around downtown, and she followed the rules of our public roads.

Her loss is devastating to our family. My sister, Sophie, would be speaking to you, herself, but her sorrow is still too overwhelming. She's asked me to speak and try to reach out to you in the hope that something positive can be made from this tragedy.

The media coverage of her death compounded our grief. If this had been your daughter or your sister or your wife, you too would have been appalled by what you read. The Portland police in public statements suggested her death was a consequence of her behavior, and implied that it was not reasonable to expect motorists to comply with the law. While this callous and indifferent attitude outrages us, it reflects the common public attitude toward pedestrians and cyclists. Law enforcements apparent inability to protect the vulnerable, like this beautiful young woman, should alarm every member of this community.

The wrong message has been sent. Instead, We need to do everything we can to make the streets safe for all.

We need to remind the population that driving is a privilege, not a right. Along with that privilege, comes responsibility. That responsibility is to share the roads with vulnerable pedestrians and cyclists.

Otherwise there will be more families that will experience the same nightmare currently suffered by my sister, Sophie, her husband Lee, and my nephew Kenny.

I am a cyclist; my husband is a cyclist and commutes 30 miles a day to OHSU. I worry everyday my nightmare could become even worse. We have an opportunity now to make a change. It can't just be warning cyclist and pedestrians to be more aware. It must come from you, our civic leaders and from our law enforcement leadership. No more families should pay the ultimate price of the senseless loss of their loved one due to unsafe streets.