Posted by Jonathan Maus (Publisher/Editor) on August 29th, 2007 at 2:29 pm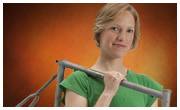 Natalie Ramsland in an HP
promotional photo. Watch video below.
Two corporations have recently noticed a pair of small, Portland-based bike businesses.
Shaun Deller of Recyclist Apparel (maker of those stylish cycling caps you see all over town) is featured in a video produced by Nau (a clothing company) and Natalie Ramsland of Sweetpea Bicycles was selected by Hewlett Packard as a case study for their small business services.

Nau, which is based in northwest Portland, collaborated with filmmaker Daniel Sharp to create a day-in-the-life video of hat maker Shaun Deller.
They named the short film, "Recycled style" and added it to the "Collective" section of their website which features "passionate stories about movement, being moved, and inspiring the same in others."
Framebuilder Natalie Ramsland has been made part of HP's "What do you have to say?" campaign, that's "about empowering people and businesses to help share their stories."
Read their profile of Natalie and Sweetpea Bicycles.
HP also put together a slick short film of Ramsland (and her husband/partner Austin) and put it on YouTube. It is not to be missed. Check it out:

Both Sweetpea and Deller have sold their wares (Natalie also makes cycling mittens and other cool stuff) at my BikeCraft events. You can meet both of them and buy their stuff at BikeCraft III coming to Lucky Lab NW on November 15!
Jonathan Maus is BikePortland's editor, publisher and founder. Contact him at @jonathan_maus on Twitter, via email at maus.jonathan@gmail.com, or phone/text at 503-706-8804. Also, if you read and appreciate this site, please become a supporter.