Posted by Jonathan Maus (Publisher/Editor) on August 24th, 2005 at 11:27 am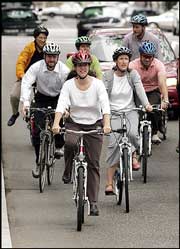 Local transportation advocate Linda Ginenthal (left), is featured in a just-released AP newswire story that details how Portland is a shining example of how bike-friendly cities keep people healthy. The story is a follow-up to a recent story about how Oregon is the only state to not show a rise in obesity rates.
Excerpt:
"What makes Oregon different is its emphasis on urban design, which encourages outdoor activities like biking to work, the study's authors said….For Ginenthal, Portland's layout has made it convenient for her to ride to work following a familiar path of arching trees. Moreover, her employer, the City of Portland, provides financial incentives, such as a $25 bonus each month for riding her bike to work at least 80 percent of the time."
The story will now spread across the globe in a matter of hours. Congratulations and a big thank you to everyone at the City of Portland Transportation Options division…this is a nice feather in your cap for all the hard work you do.