Monday, April 20th, 2015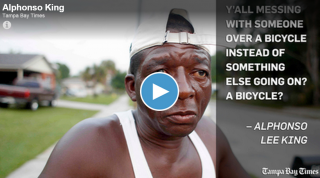 Alphonso King's homebuilt bike was confiscated
by police who couldn't believe he hadn't stolen it.
(Screen grab from
Tampa Bay Times
)
Here are the bike-related links from around the world that caught our eyes this week:
"Bicycle Blitzkrieg": A Tampa woman walking her bike home after cooking for an elderly neighbor, carrying a plate of fish and grits in her other hand, got a $51 ticket for not having a bike light. A 54-year-old man's bike was confiscated because he couldn't produce a receipt to prove it was his. A 56-year-old man was handcuffed for towing a borrowed lawnmower through a stop sign on his bike. They're all part of the Tampa police department's effort to "head off crime before it happens" by issuing thousands of bicycle-related infractions to black people.
Bikes vs. bombs: After World War II, London teens turned bomb-site ruins into low-rent velodromes. One man who's still in the saddle tells the story.