Monday, February 10th, 2014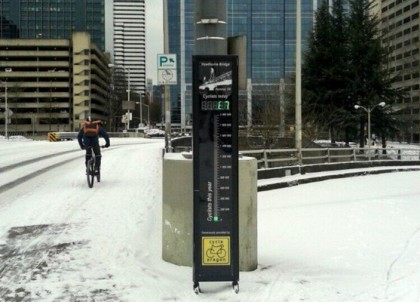 The Hawthorne Bridge bike counter on
Friday, in a lull between the storms.
(Photo by
Roger Geller
.)
Mother Nature finally found a way to keep Portlanders off their bikes on Sunday: a foot of fresh snow followed by a dangerous ice storm.
The Hawthorne Bridge bike counter (which was donated by Cycle Oregon) detected only 32 pairs of wheels crossing in both directions during the entire day. It's by far the lowest total recorded since the counter was installed in August 2012.
On Friday, the counter picked up 308 bikers, the second-lowest weekday traffic to date after Christmas Day, 2013. On Thursday, when the storm hit midday, 1,773 people made it across the bridge westbound.