Thursday, March 19th, 2015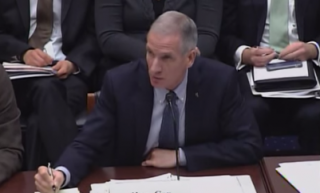 AASHTO President Jon Cox before a congressional
committee Tuesday.
(Screen capture via
Rep. Rick Larsen
)
Vision Zero is maybe the hottest subject in American street advocacy right now, but there's still quite a lot of disagreement about what exactly it means.
As Portland adopts an official policy to prevent all road deaths and safety advocates begin a push for state and other local governments to follow that lead, we've just gotten a couple very clear examples of what Vision Zero doesn't mean.
One comes from a hearing Tuesday in Washington D.C. The other comes from a state engineer quoted yesterday in The Oregonian.