Posted by Michael Andersen (News Editor) on March 24th, 2014 at 7:40 am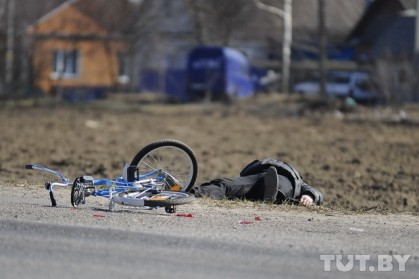 This week's Monday Roundup is sponsored by Urban Office Renewal, owners of a historic, newly-renovated, bike-friendly office building at SW 9th and Oak.
Here are the bike links from around the world that caught our eyes this week:
Driving test: A team of Belarus police mocked up the scene at right to see how people driving past would react. Nine of 186 passers-by stopped.
Super-reflective bike: "The Lumen is the latest bike from the artisanal builders at San Francisco's Mission Bicycle Company. The entire bike — frame, fork, and rims — has been sprayed with a retro-reflective coating."
Speed cameras and behavior: In Chicago, automated speed cameras have cut extreme speeding by 90 percent. They're so effective that the city is making almost no money from them.
Speed cameras and privacy: "When it comes to dangerous driving … privacy interests are minimal and safety concerns considerable," the celebrated civil rights lawyer Alan Dershowitz concludes in a reasoned endorsement of red-light and speed cameras.
Youth driving: The New Republic looks at the decline in youth driving and makes the point that outside New York City, most zero-car households are poor, but misses an important fact: the driving decline is driven more by a rise in low-car life (owning cars but only driving sometimes) than by a rise in no-car life. Meanwhile, Portland's own Community Cycling Center looks closer at demographics of zero-car households.
Email This Post