Posted by Michael Andersen (News Editor) on February 19th, 2014 at 1:51 pm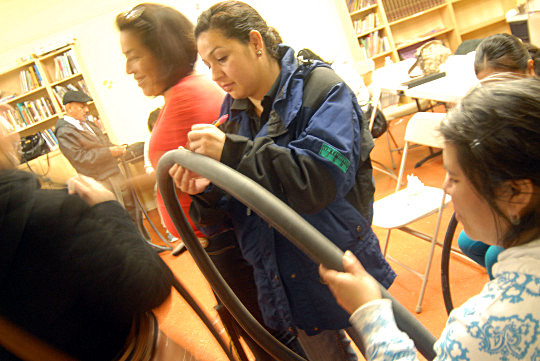 Veronica Rodriguez notes the location of a tube leak at the ABC bike club meetup Tuesday.
(Photos by M.Andersen/BikePortland)
Para leer esta historia en español, traducio por Google, haga clic aquí.
Three years after Portland's Community Cycling Center teamed up with the low-income Northeast Portland housing development Hacienda CDC to learn about the barriers to bike use in that community, some of those walls are falling down.
We've been hearing for months about the Cully neighborhood's new bike club, Andando en Bicicletas en Cully, a mostly Spanish-speaking group from in and around the Hacienda development who ride bikes together and have been organizing to improve biking in their area. On Tuesday, I headed up to check out one of their events.
Though they meet monthly, this was a special party — a celebration to welcome another group, a local leadership club, whose members were becoming part of ABC (as the bike club calls itself for short). They started with a potluck of pasta, rice, tortilla chips and cookies before getting down to business: a simple bike signaling and flat repair workshop, all of it conducted in Spanish.
Pedro Moreno of environmental wealth group
Verde
fills in the club on upcoming events focused on improving biking and walking in Cully.
Like most bike-related events, this was as much about seeing friends as it was about riding.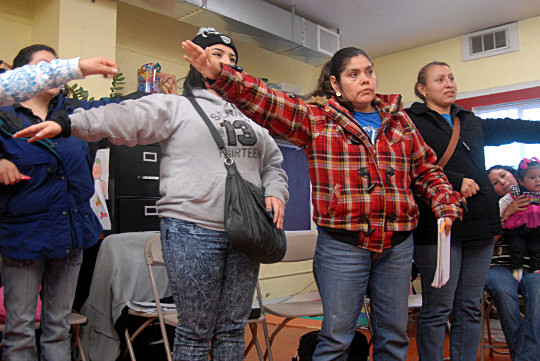 Jessica Reyes and Veronica Ramos Juarez, center, take part in a bike signaling drill.
Rodriguez and Moreno listen for the location of a tube leak.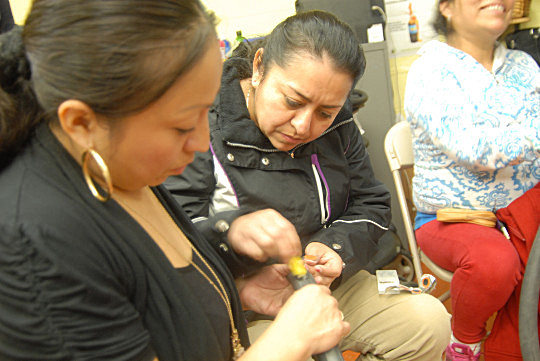 Participants paired off to patch tubes.
Rodriguez took careful notes about each step of the tube repair process.
Reyes, a first-time attendee, gave a thumbs-up that she understood.
Email This Post